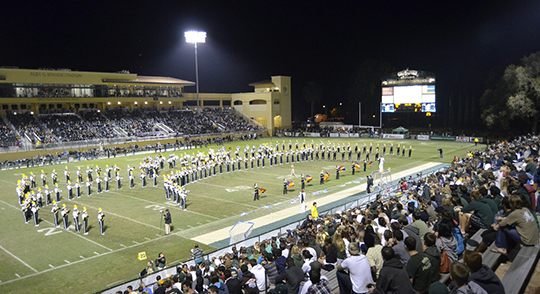 Drumline Audition Instructions
The Mustang Band only utilizes a battery drumline consisting of snare drums, tenor drums, bass drums, and cymbals. If you do not own one of these instruments, please contact your current band director to see if you might be able to utilize one for the audition. Otherwise, please email the drumline instructor in order to schedule a live audition (at which point you can use one of our instruments.)
Drumline auditions are particularly competitive. Therefore, if you feel comfortable with more than one percussion instrument, it is acceptable to submit separate video auditions for each. Moreover, if you have experience (and are proficient) on a woodwind or brass instrument, you may wish to submit a separate audition on that instrument as possible fallback solution in case you are not accepted into the drumline. If you decide to pursue either of these suggestions, please email Dr. Waldron and the drumline instructor to let them know.
Finally, please notice that the audition instructions linked below are thorough and contain significant detail. Please be sure to read through the instructions for your instrument very carefully in order that you do not accidentally disqualify yourself due to an incomplete or incorrect audition. If you have any questions about anything included below, or need clarification on the terminology or instructions, please feel free to email the drumline instructor.
Please click on the link below for audition instructions specific to each instrument
The deadline for submitting an audition is Monday, July 31, 2023 @ 11:45PM PDT. Results will be announced during the first week of August.
Audition Instructions Will Be Emailed

Please be sure you have completed our Online Interest Form to receive the instructions.