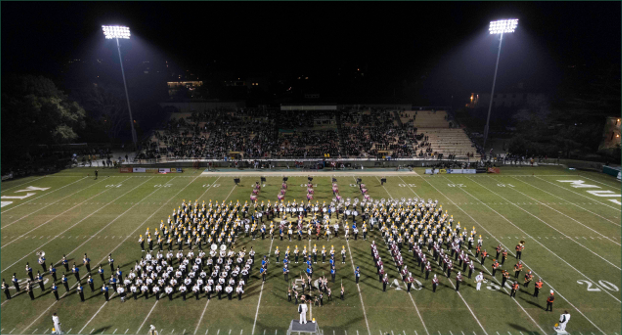 Saturday, November 20, 2021 (Cal Poly vs. Northern Arizona)
Band Day is a great way to experience a college football game day with the members of Mustang Band. Participants will perform a combined piece at half-time, play some tunes in the stands, and march "up the hill" at the end of the night. Don't just come watch a football game, be part of the game day experience!
For more information regarding Band Day, please complete the registration form (below), email the directors.
---
Registration Form
Directors should complete the registration form by clicking on the link below. If exact numbers are not available, you may provide us estimates at this time.
Registration Form
---
Schedule
Below is our tentative schedule
09:30AM
Arrive on campus
10:00AM
Split Rehearsals @Doerr Field

Brass and Woodwinds - On The Field
Percussion - South End Zone
Colorguard/Twirlers - North End Zone

10:30AM
Combined Rehearsal @Doerr Field
11:30AM
Lunch - Group Picnic @Track Field
01:30PM
Enjoy Mustang Band's Warm Up and Mini-Concert at UU Plaza
03:00PM
Change into Uniforms
03:45PM
Step Off from UU Plaza to Dexter Lawn
04:00PM
Enjoy Mustang Band's Warm Up and Mini-Concert at Dexter Lawn
04:30PM
Step Off from Dexter Lawn to Spanos Stadium
04:48PM
Enjoy Mustang Band's Pre-Game Performance
05:05PM
Kick Off
First Half
Visting Bands perform select tunes with Mustang Band in the stands
Half-Time
Visiting Bands perform with Mustang Band on the field
Second Half
Visting Bands perform select tunes with Mustang Band in the stands
Post-Game
Enjoy Mustang Band's Post-Game Performance
After Post-Game
March "up the hill" with Mustang Band
Annoucenments
Dismissed!
---
Parking & Drop Off
Buses and Equipment Trucks should be parked at the PAC loading dock. Please be sure to confirm with us the number of buses/trucks so that we can clear it with the university and the Performing Arts Center.
Parking Services will be providing us with a special parking permit for PARTICIPANTS ONLY. All other vehicles (family & friends) will need to follow general campus parking policies.
The Grand Avenue Parking Structure is considered Event Parking from 7:00am - 10:00pm. You will need to purchase an Event Parking Permit from an Event Parking staff or the grey ticket kiosk on the PAC Circle, or display our Band Day Participant permit.
If you need up to 2 hours of parking, you can use the G-2 lot located near Doerr Field on Slack Street. You will need to use the ParkMobile app to pay for "metered parking".
If you will be dropping off, we recommend using the Performing Arts Center drop off circle (buses and other larger vehicles), or Parking Lot G-2.
Parking Maps
---
Storage Space
Storage (for cases, uniform bags, etc) will be available on a "First Come, First Served" basis in the Pavilion at the Performing Arts Center. Band Directors should let us know if their group requires storage space for the duration of Band Day.
---
Lunch
Mustang Band will provide box lunches at NO COST to your band. Directors will be emailed a link to place your group order soon.
---
Discounted Family Tickets
Please use the Promo Code: BAND21 when purchasing your tickets.
Visit tickets.calpoly.edu or call 805-756-4TIX (805-756-4849)
Mustang Band and visiting bands will be seated in Sections 104 & 105 (East Bleachers)
The combined performance portion of our Halftime show will be performed facing the West Bleachers.