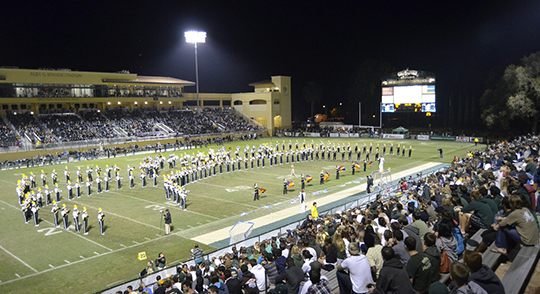 Admission into the Cal Poly Mustang Band is determined by audition. All Cal Poly students with experience performing in a marching band, regardless of major, are encouraged to submit and/or schedule an audition.
It is common for new students to be nervous about their first audition. However, Cal Poly has a long tradition of serving performers from all musical backgrounds. There are members of the Mustang Band with a wide range of ability and experience levels, including many who never performed an audition until their first quarter as a university student. The directors strive to accommodate all students and work hard to make sure that the Mustang Band audition process is relaxed and comfortable.
If you have not yet already done so, please be sure to fill out our Online Interest Form as well as review our Band Camp Information, Marching Shoes Ordering Information, and our list of Frequently Asked Questions.
Audition Information
Returning Mustang Band members who have not completed their live audition by the end of the spring quarter must submit a video audition through Acceptd at full price.
Prospective Mustang Band members (and new students) should plan on submitting a video audition through Acceptd at a discounted price of $10. Otherwise, you may instead choose to perform a live audition with Mr. Woodruff, schedule permitting. If you are planning to visit the campus, that would be a good opportunity to email Mr. Woodruff and perform your audition in a relaxed atmosphere.
The deadline for submitting an audition is Monday, August 1, 2017. Results will be announced in mid August. Those who are not selected for membership will have plenty of time to register for WoW before their deadline.
To audition for the Mustang Band, please read through the instructions (linked below) to submit your audition online (the most common method of auditioning) or contact Mr. Woodruff to see if an in-person audition might be possible.
If you encounter any problems submitting your video audition, please contact Accepted Tech Support at 1-888-725-2122 ext. 2 or at support@getacceptd.com.
Audition Instructions
Please select a link below for audition instructions specific to your section