Nicholas P. Waldron
Associate Director of Bands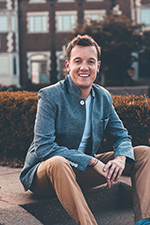 Nicholas P. Waldron is appointed Associate Director of Bands at Cal Poly, where he will oversee the Mustang Band and Wind Orchestra. He recently completed the Doctor of Musical Arts degree with honors in Wind Conducting at the University of Kansas School of Music where he studied with Dr. Paul W. Popiel. He served as a graduate teaching assistant in the Department of Bands, was the director of the Women's Basketball Band and assistant director for the Men's Basketball Band and taught conducting and music education courses. He holds a Master of Music Degree and a Bachelor of Music Education Degree from Indiana University, where he studied conducting with Stephen W. Pratt and bassoon with William Ludwig and Kathleen McLean.
Just prior to his time in Kansas, Dr. Waldron was an Associate Instructor in the Department of Bands/Wind Conducting at the Indiana University Jacobs School of Music. In this role, his responsibilities included teaching undergraduate conducting, directing athletic bands and guest conducting Indiana's three concert bands.
A native of Hudson, Ohio, he served as director of bands for Sheridan Community Schools in Sheridan, Indiana.  His responsibilities included teaching several concert ensembles, music education courses, and marching and pep bands.  Under his direction, the SCS ensembles received consistent first place finishes and Caption Awards in Class A at State Fair Band Day and unanimous superior ratings at music festivals. Dr. Waldron's professional memberships include CBDNA, Kappa Kappa Psi, the International Double Reed Society, and the Society for the Promotion and Research of Wind Music.
Christopher J. Woodruff
Director of Bands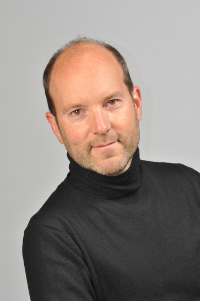 Christopher Woodruff joined the faculty at California Polytechnic State University in San Luis Obispo as Associate Director of Bands in the fall of 2006. In addition to his responsibilities with the concert and athletic bands, he teaches courses in music theory, and music appreciation. As Instructor of Trumpet he also coaches the Cal Poly Brass choir and teaches methods courses in brass pedagogy.
Woodruff received the bachelors degree in music education at Louisiana State University and taught high school band for several years in Florida. He continued studies in conducting at Northwestern University, where he received the Eckstein Band Conducting Grant and completed the master of music. While in Chicago, he served as Music Director of the Spring Valley Concert Band and was a guest conductor for the Northshore Concert Band and the Northshore Chamber Orchestra.
Prior to his arrival on the Central Coast, he served as Director of Symphonic and Marching Bands at University of Northern Iowa and Director of Bands at Lycoming College in Pennsylvania. His guest conducting appearances have included concerts with the Penn Central Wind Band, Williamsport Symphony chamber players as well as the Northshore Concert Band and Northshore Chamber Orchestra, both in Chicago. As a trumpet player, he has played with the Baton Rouge Symphony, Billtown Brass Band, and Williamsport Symphony Orchestra.
Mr. Woodruff holds professional memberships with the Music Educators National Conference, California Band Directors Association, College Music Educators Association, World Association of Symphonic Bands and Ensembles, and the International Trumpet Guild. He is also a member of Phi Mu Alpha Sinfonia, and Pi Kappa Lambda and is chapter co-sponsor of the Iota Pi chapter of Kappa Kappa Psi.
Len Kawamoto
Mustang Band Assistant Director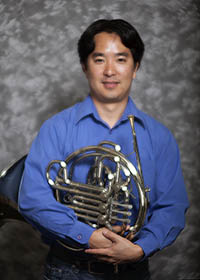 Len Kawamoto has been serving as the assistant director of the Mustang Band since the fall of 1998. Born in New Hyde Park, New York and raised in Torrance, California, he is an alumnus of Cal Poly and the Mustang Band. As a student, Kawamoto studied Computer Science while playing horn in the Mustang Band, Wind Orchestra, and the Chamber Orchestra. In addition, he participated in musical organizations such as the SLO County Band, SLO Chamber Orchestra and the Sacramento Freelancers Drum and Bugle Corps. His student leadership positions included Equipment Manager, Executive Officer, and Mustang Band President. Kawamoto is also a Founding Father of the Iota Pi chapter of Kappa Kappa Psi, National Honorary Band Fraternity.
After completing his Bachelor of Science degree in Computer Science, Kawamoto accepted his current position as assistant director for the Mustang Band. Kawamoto is a member of the College Band Directors National Association, the International Horn Society, and the IEEE Computer Society. He also performs regularly with the San Luis Obispo Wind Orchestra, Core-tete, and Pacific Coast Brass Ensemble. He has previously performed with the Cuesta Wind Ensemble, the San Francisco Renegades Senior Drum and Bugle Corps, and the Renegades Mini-Corps.
In addition to his responsibilities with the Mustang Band, Kawamoto maintains his professional alter ego as a software engineer for a local engineering company.
Jeffrey Brown
Second Assistant Director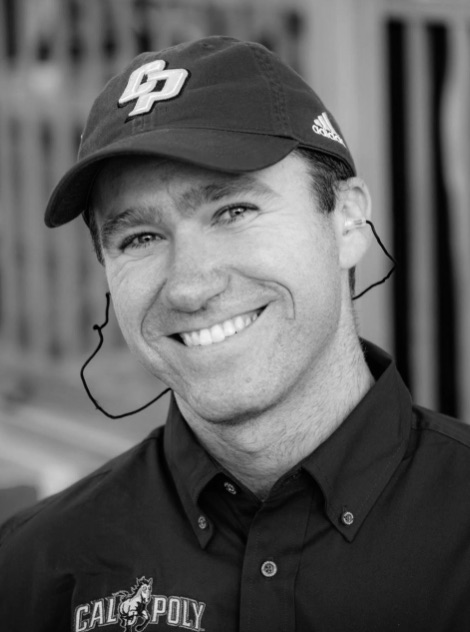 Jeffrey Brown has been a band staff director since 2013. He studied business administration at Cal Poly with an information systems concentration and a minor in computer science. He also earned an MBA. Since graduating, he has performed with the San Luis Obispo Wind Orchestra and works at MINDBODY as a software engineer. He is co-founder of Bishop Peak Technology. He was a member of Mustang Band, first in the clarinet section, then drum major. He also performed in Cal Poly's Wind Orchestra and Wind Ensemble. He was a member of the Iota Pi chapter of the National Honorary Band Fraternity, Kappa Kappa Psi.
Matt Rice
Drumline Instructor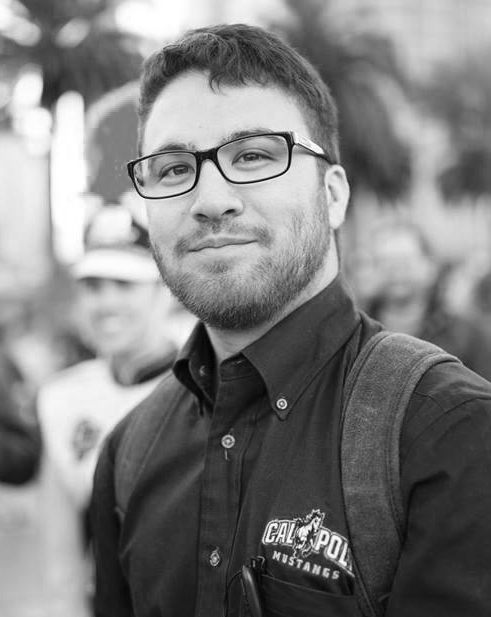 Matt Rice earned a Bachelor of Science degree in graphic communication from Cal Poly in 2014. Since then, he has worked full time as a graphic designer for 20|20 Creative Group. While at Cal Poly he was a member of Mustang Band. This is his fourth year as drumline instructor for the band. He works with the student leadership to write custom percussion parts for the band's field shows and creates feature performances for fall and winter quarter halftime shows.
Emily Lopez
Colorguard Instructor