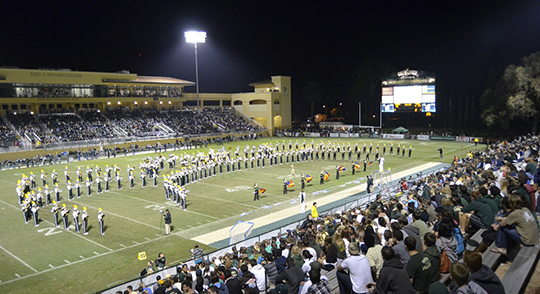 Audition Information
Admission into the Cal Poly Mustang Band is determined by audition. All Cal Poly students with experience performing in a marching band, regardless of major, are encouraged to submit and/or schedule an audition.
It is common for new students to be nervous about their first audition. However, Cal Poly has a long tradition of serving performers from all musical backgrounds. There are members of the Mustang Band with a wide range of ability and experience levels, including many who never performed an audition until their first quarter as a university student. The directors strive to accommodate all students and work hard to make sure that the Mustang Band audition process is relaxed and comfortable.
If you have not yet already done so, please be sure to fill out our Online Interest Form as well as review our Band Camp Information, Marching Shoes Ordering Information, and our list of Frequently Asked Questions.
All returning and prospective Mustang Band members must submit an online audition to be considered for membership in the ensemble.
Audition Cost Schedule
| Date of Submission | Cost |
| --- | --- |
| May 1 - June 30 | No Cost |
| July 1 - July 15 | $15.00 |
| July 16 - July 31 | $30.00 |
Audition Instructions
Please select a link below for audition instructions specific to your section
The deadline for submitting an audition is Sunday, July 31, 2022 @ 11:59PM PDT. Results will be announced during the first week of August.